Football is a sport that is widely loved all over the world for its demanding athleticism and tactical play. Every year millions of people in America watch the Super Bowl, the National Football League (NFL) championship. This game represents American culture, it has become an integral part of the culture there. But American football has a varied and complicated history. Its history is influenced by the social, political and economic elements there.
In this post, we're going to talk about the history of American football, and how it came to be what it is today.
The History of American Football
At the beginning of the 19th century, a new game begins in North America and Europe, which is a ball game. And another type of classic ball game is born. To score a goal in this game, the ball which was round shaped was done by kicking, tossing or carrying it. The rules of many games changed with the change of time. The result of this was that many variations of the same game were born.
American football greatly benefited from the early 19th-century introduction of rugby, which originated in England. Students from Yale, Harvard, and Princeton brought rugby, a well-liked British colonial sport, to America. These students sought to change the rules of rugby in order to produce a brand-new sport that American fans would like.
How American Football Began in the History of American Football
On November 6, 1869, Princeton and Rutgers University participated in the inaugural game of American football. Each team tried to carry the ball beyond the goal line of the opposition during the rugby-style game. The match ended in a stalemate, but it was the beginning of a new sport that would later become an important part of American society.
Football continues to change and transform into a unique sport throughout the ensuing several decades. The adoption of downs, yard lines, and the line of scrimmage were among the standardised rules for the game that Walter Camp, a former Yale player and coach, helped develop in 1880. With the aid of these new regulations, the game became more structured and ordered, making it simpler for both players and spectators to follow. This is the beginning of the History of American football.
The Rise of Professional Football in the History of American Football
The late 19th and early 20th centuries saw a rise in the popularity of college football, but professional football was still in its infancy. The American Professional Football Association (APFA), the first professional football league, was founded in 1920. The APFA would subsequently change its name to the NFL in 1922. Ten teams made up the league, and its first season was only marginally successful.
Professional football's popularity grew during the following several decades, in large part due to the invention of television. The first football game to be broadcast coast to coast was the NFL championship game between the New York Giants and the Baltimore Colts in 1958, which was shown live on national television. The game, a nail-biting contest that ended in sudden-death overtime, is frequently regarded for helping to launch the current professional football era. This was the first televised football match in the history of American football. This Was the Rise of Professional Football in the History of American Football.
Today's football game in the History of American football
Now, millions of Americans tune in each week to watch their favourite teams play football, making it one of the most watched sports in the country. With 32 teams representing American cities, the NFL is the most well-known professional sports league in the nation.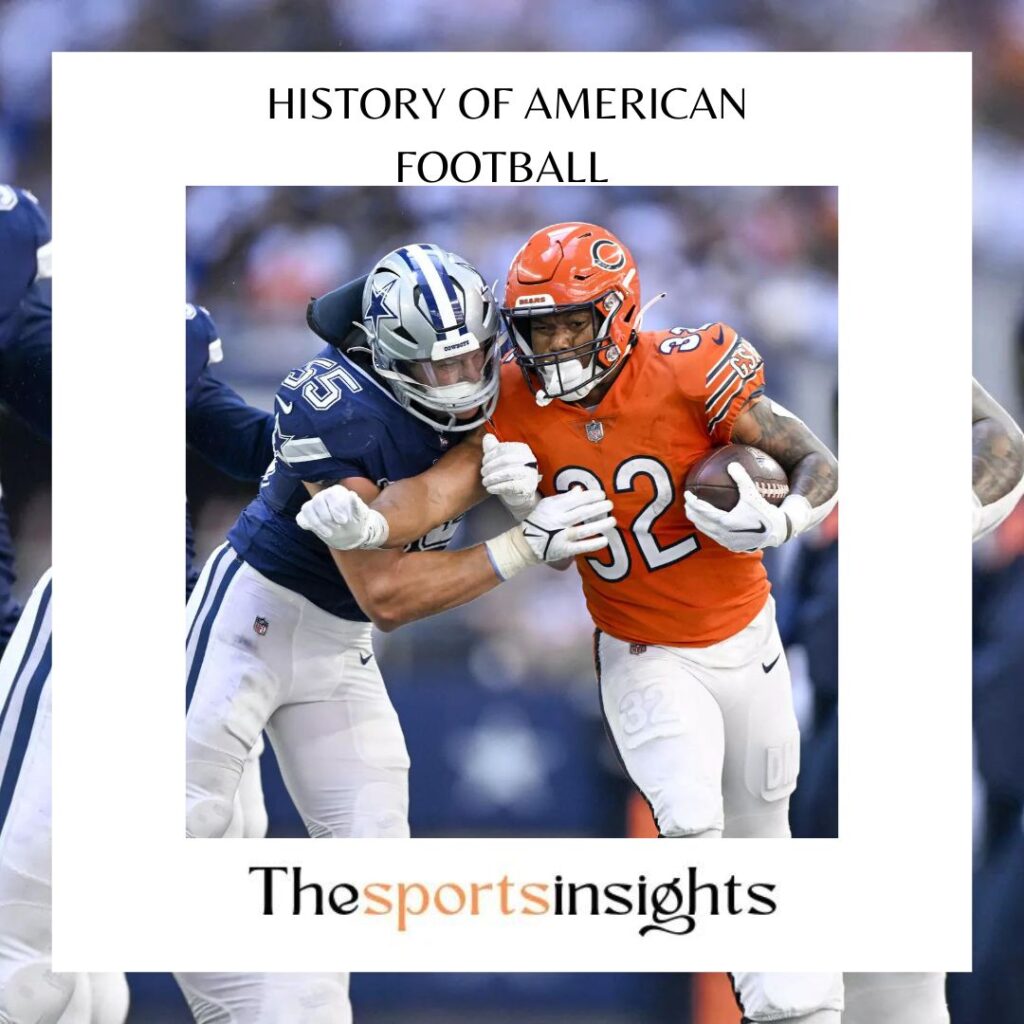 Football has generated controversy and debate in recent years, particularly when it comes to concerns about player safety and social justice. Many players have taken use of their position to speak out against topics like racial inequity and police brutality. The NFL has introduced a number of new rules and practises to assist safeguard players from head injuries and other health concerns.
Despite these difficulties, football continues to be a significant aspect of American society, with a rich and complicated past that still influences the game today. From its earliest days Over the past 150 years, football has evolved significantly from being a modified form of rugby to the billion-dollar industry it is today.
Football has remained popular over time in part because of the fervour and devotion that supporters have for their preferred teams. Football has a special way of uniting people, whether it's at a Super Bowl watch party in a sports bar or at a tailgate party before a game. A cultural touchstone, the game has developed its own language, rituals, and customs that are passed down from one generation to the next.
One more reason for football's appeal is how versatile it is. As players' and viewers' preferences and needs varied throughout time, the sport developed to meet those needs. Football has continued to change and adapt while upholding its fundamental ideals, whether it is through the acceptance of new rules and regulations or the development of new tools and equipment.
Controversy and Criticism in the History of American Football
Naturally, controversy and criticism have also come along with this expansion and success. Recently, there has been a significant increase in the number of former players experiencing long-term health impacts as a result of their time on the field, raising serious concerns about player safety, particularly with regard to brain injuries and concussions. Numerous experts contend that more work needs to be done despite the NFL's efforts to address these issues, including the introduction of new rules and practices meant to protect players from brain injuries.
Parallel to this, social justice has taken on more significance in football as players use their platforms to address topics like racial inequity and police brutality. This has caused controversy and debate, but it has also promoted real discussion and change by drawing attention to significant issues.
Football is still a huge part of American culture and a favourite hobby for millions of people despite these difficulties. There is no doubting the thrill, drama, and spectacle of football, as well as the part it has played in defining our country's history and identity, whether you're a die-hard fan or just an occasional viewer.
Conclusion
To sum up, the history of American football is a rich and intricate tale that spans more than 150 years. Football has endured and developed, adjusting to meet the changing requirements and wants of players and fans alike, from its humble beginnings as a modified version of rugby to the billion-dollar industry it has become today. Football continues to be a vital component of American society, a source of fervour, pride, and tradition, and a reminder of the ability of sport to unite people and motivate us to greatness despite the controversy and criticism it has received in the past.
Also Read: Who is the Goat of football history
So this is the end of this post. Here we have discussed the history of American football. Hope you liked it.
FAQ on the History of American Football
Question 1. Who is the one who invented American football?
Answer: Walter Camp
Question 2. What was the original name of American football?
Answer. Gridiron football
Question 3. Which nation is the birthplace of football?
Answer. England
Question 4. What's the age of American football?
Answer. November 6, 1869, is the date when American football was born.
Question 5. When did American football start to gain notoriety?
Answer. The 1958 NFL Championship Game, known as the "Greatest Game Ever Played," is credited for sparking American football's meteoric rise to fame in the latter part of the 20th century.