Bangalore, the thriving capital of Karnataka, is a hub of athletic fervour. Football has progressively gained ground and developed a devoted fan base recently, while cricket has historically ruled the athletic world. This article delves deep into the Best football stadium in Bangalore scene. We tour the illustrious Sree Kanteerava Stadium's rich heritage, brilliant architecture, and vibrant atmosphere, as well as the cutting-edge Bangalore Football Stadium.
Football Stadium in Bangalore
Sree Kanteerava Stadium
In the centre of Bangalore, Sree Kanteerava Stadium is a renowned sporting stadium that accommodates a variety of disciplines. Numerous football clubs, notably Bengaluru FC, one of the premier teams in India, have called it their home pitch. There are about 25,000 seats available in the stadium, which has hosted many memorable football games.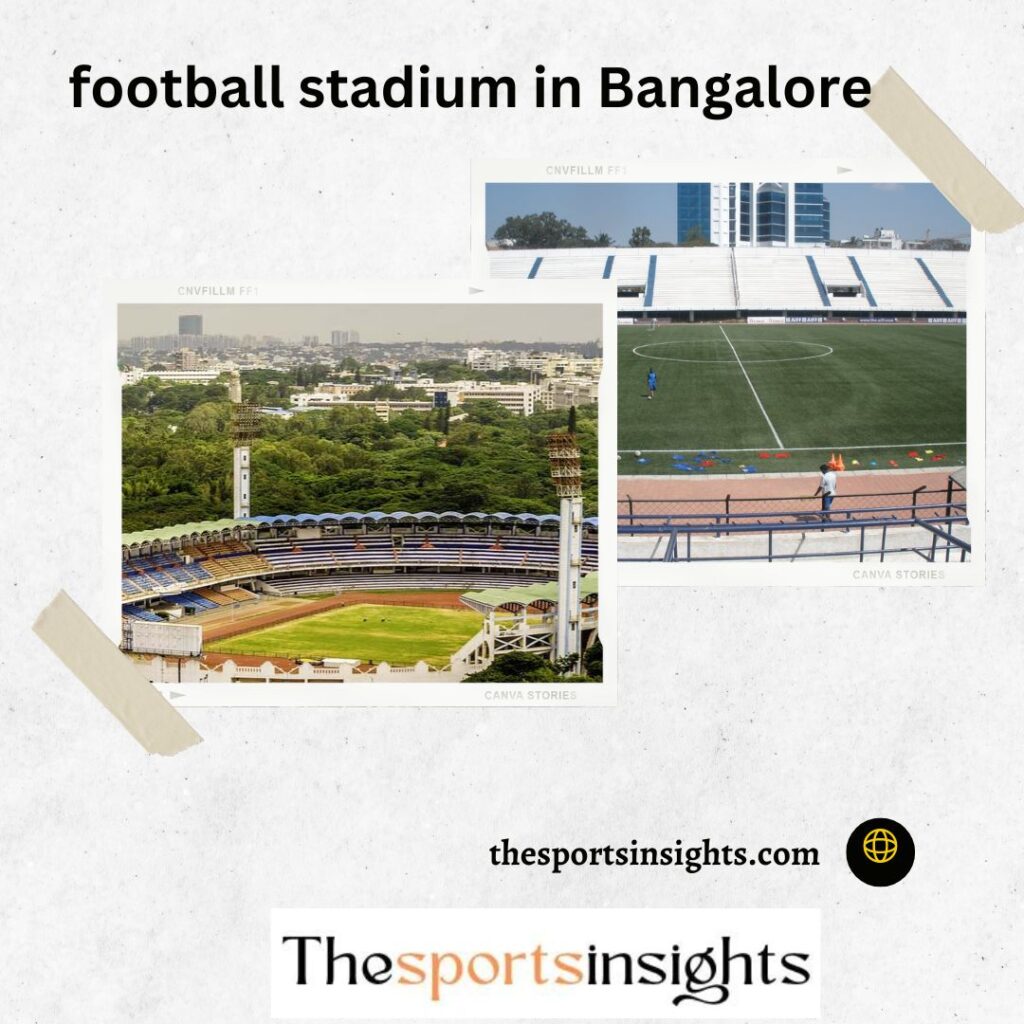 Bangalore Football Stadium
The vibrant Ashok Nagar neighbourhood's bustling Bangalore Football Stadium is proof of the city's growing football fervour. It has acted as a local football club's and a national team's practice space in addition to being Bangalore's primary football stadium. With a roughly 15,000-person capacity, the stadium offers spectators a first-rate viewing experience.
Architecture and Facilities
Sree Kanteerava Stadium and Bangalore Football Stadium both have outstanding architectural layouts that successfully combine practicality and aesthetic appeal. Modern amenities are available at the 1997–2011 reconstructed Sree Kanteerava Stadium, which includes media facilities, training areas, and dressing rooms. The open-air design guarantees that viewers will have a comfortable viewing experience.
On the other side, the Bangalore Football Stadium got a significant refurbishment in 2018 to suit international standards. The redesigned stadium includes better seating options, top-notch turf, and upgraded player amenities. The building's eco-friendly additions, like rainwater collection systems and solar power installations, demonstrated Bangalore's dedication to sustainability.
Electric Atmosphere and Memorable Matches
Numerous unforgettable games that left a lasting impression on the spectators' hearts were played in Bangalore's football venues. Indian Super League (ISL) games in which Bengaluru FC has created a tough rivalry with teams from all across the nation have taken place in the exhilarating Sree Kanteerava Stadium. With their chants, banners, and unwavering support for the local club, the fervent spectators, nicknamed the "West Block Blues," create an energetic scene.
There have been plenty of football-related tragedies at Bangalore Football Stadium. Local leagues, intercollegiate competitions and matches at the national level have graced the pitch, energising both players and spectators. The tiny environment of the stadium provides for a close-up and personal experience, strengthening the bond between the audience and the game.
Grassroots Development and Impact
Bangalore's football fields are crucial for fostering grassroots development and discovering new talent. They serve as practising areas for neighbourhood organisations, academies, and young teams, providing aspiring athletes with an opportunity to hone their skills and showcase their potential. The existence of excellent infrastructure and services at these sites has significantly benefited the growth of football at the grassroots level.
The youngsters of Bangalore have also been motivated to pursue their love of football by the existence of these stadiums. Their ongoing inspiration to pursue their goals and strive for excellence comes from seeing their favourite players on the same fields they play on. As concrete representations of the opportunities that await young football enthusiasts, the stadiums have evolved into symbols of optimism.
Conclusion: Football stadium in Bangalore
The stadiums in Bangalore serve as pillars of support for the sport and its devoted supporters as the city continues to embrace football as a major sporting force. These stadiums, which range in size from the opulence of Sree Kanteerava Stadium to the renovated Bangalore Football Stadium, have developed into important centres of football activity, fostering talent and kindling fan fervour.
Bangalore's football stadiums are positioned to play an even more vital role in determining the future of football in the city and the country with continued initiatives to improve infrastructure and encourage grassroots growth. These stadiums will remain the focal points for legendary games, electrifying atmospheres, and the emergence of fresh pitch legends as the city's football culture develops.
Also read: Sunil Chhetri Stats